New Porn Album Title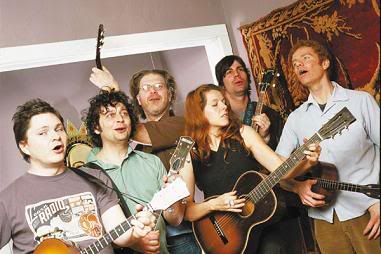 A. Carl Newman has released some more details about the Pornographers latest album, to be released in August, called
Challengers
Carl Newman on song titles:
Most of them are there. What are they? Let's see. Well, Dan's songs are called "Myriad Harbor" and "Entering White Cecilia" and "The Spirit of Giving", which first showed up as a Sub Pop single b-side years ago, which never got released, so it seemed safe to do it again. What else is there? A song called "All These Things That Go to Make Heaven and Earth" and "Go Places", there's a song called "Challengers", and there's a song called "All the Old Showstoppers". That's all I can think of right now. I'm always zoning out
Sounding good, A.C?
It definitely sounds like something that, when it's quiet, I think it's much quieter than it ever has been, to the point that there are actually songs that don't really have any drums. Or, a song that has no drums for the first half, but then the drums come in, and even then they don't come in that much. There's a little more instrumentation than we've really tried having before. We brought in a string quartet, and there's actually flute on it, there's going to be a little bit of trumpet. I feel like I kind of shied away from that in the past, but I thought, why not try it now? There was a long stretch there where I thought there were too many bands with strings and horns and flutes. Then I thought, I like those instruments, so I brought them in. Not that there's going to be that much of it on the record, per se, but you know, just wanted to add a few more colors to the palette
Righteous.
Also, 6 more bands have been added to the Virgin Festival in Toronto this September. On day 1, the Artic Monkeys, M.I.A. and Mute Math have been added to the lineup and on day 2 Metric, Peter Bjorn & John and Honeycut have signed on. The anticipation is growing....