You've seen
everyone else's
, and now here's mine.
The list of 2006's Greatest Albums!
In some ways the easiest, and some ways the hardest thing I've done all day (and i wrote a history exam this morning). The top three I couldn't have chosen faster. They jumped out as me as the greatest albums I've listened to all year hands down and deserved their titles. But as I went on I found it harder and harder to narrow it down to a final cut. So I present to you the revised, and rerevised masterlist! Enjoy!
10.
M. Ward - PostWar
The soft and muffled, but simplistic sound of M. Ward's music is a refreshing vacation from the hustle and bustle of a lot of music today. What's the matter with just a guitar and a set of beautiful and unforgetable lyrics? Bob Dylan did it in the 60's, revisited by Neutral Milk Hotel in the 90's, and M. Ward is doing it again with Post War. Don't like to hear politics in your music? Neither do I. I associate politics with complications and technicalities, which Post War is not. The name is misleading as the album is incredible, no strings attached bliss.
9.
Junior Boys - So This Is Goodbye
This is a clear top-tenner. Junior boys put out beautiful electronica beats. Hands down. 'Nuff said.
8.
Amy Millan - Honey From The Tombs
I'm not really one to buy a country album, but I made an exception this year with Amy Millan's alt-country wonder. She's already one of the indie queens of our generations (of Broken Social Scene and Stars fame) and when she goes ahead and puts out a solo CD, of course its worth checking out. And it was definitley worth the while, because it's a great album. Beautiful melloncolic songs about skinny boys, losing boys and drinking. So what if it's country?
7.
K-OS - Atlantis: Hymns 4 Disco
It only took one listen of this album before I loved it. I'm a self proclaimed K-OS fan and loved Joyful Rebellion, but Hymns for Disco feels right. It's a little more mature and a little better produced then Joyful Rebellion with many more hip hop elements (never fear, he still breaks it down this the acoustic guitar from time to time). Definitley deserves its spot.
6.
Hot Chip - The Warning
Who wouldn't agree with this? As soon as I heard 'And I Was A Boy From School', I needed the album. As soon as i heard the album, I needed to see them live. Well I still have yet to see them live because I missed them when they came to Toronto, but it's gonna happen.
5.
Sufjan Stevens - The Avalanche
Well I loved 'Illinois', so naturally I love 'The Avalanche'; It's mathematical! Sufjan writes beautiful indie rock music and definitley delivers on this 'Illinois' retake. I especially like the title track and 'The Perpetual Self', along with, of course, the many versions of 'Chicago'. Thanks Sufjan!
4.
Beck - The Information
This album could show up on this list solely for the stickers. The delightful stickers that he included with the jacket with a blank cover you're supposed to decorate. And then I listened to it. By far my favourite Beck album to date.
3.
Regina Spektor - Begin To Hope
I actually saw Regina live in concert before giving this album a good listening to. Sometimes I actually prefer to do that, because already there are songs that jump out at your when you do start listening to it. You hear them live, forget them, then as soon as you hear the album you remember them instantly and can sing along to the entire song. It's feels phenonimal.This album was much more refined than 'Soviet Kitsch's rusty appeal, but they're both fantastic albums. Regina is a charming and beautiful performer and songwriter, and has gained herself a life long fan.
2.
Thom Yorke - The Eraser
I was never a big Radiohead fan short of their hits, but I really hit it off with Thom Yorke. I bought his album before I started to get into electronica (which was earlier this year, yes), and it really helped bridge the gap between pretty indie music and electronic drone (i mean that in a good way. I've grown to love the electronic drone).
1.
Elvis Costello - My Flame Burns Blue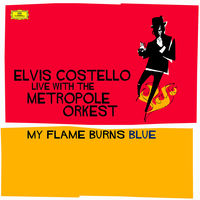 Not an obvious chart topper, I realize but most definitley deserves the title. I'm a self proclaimed Costello fanatic (by influence of my father) and always have been. Not only this one hell of a jazz cd, but it's live! And this is only one of two jazz albums he put out this year. And frankly the man is a human fucking jukebox, and should be commended for it. Haven't heard of this album? Do yourself a favour immediatley and pick it up.